Reputed And Trusted Brand For Office Shifting
Om Transport Corporation offers convenient and pocket-friendly office relocation services.
Om Transport Corporation: A Household Name for Office Shifting Services
Relocating your commercial goods, especially your office belongings, is a great responsibility, and this is way too different than moving your household items. Office shifting is all about getting your possessions from one place to another. But while shifting office, you need to move your sole property alongside the possessions of the entire office staff directly or indirectly associated. Thus, it takes greater accountability and involves more risk in office shifting. At Om Transport Corporation, we make this time-consuming process efficient and easy with a team of office relocation specialists who have years of experience in this field.
Whether you are planning to move your office to a nearby locality or shifting to a place situated at a distance, we carefully take care of all the office good shifting complications. We dedicate most of our time to plan your move to deliver a safe and secure office shifting experience.
We Take Care Of All Your Important Belongings
Office relocation needs more attention and dedication than home relocation or other moving services. The reason is your office consists of different types of goods that are not always easy to manage. Alongside having oversized items such as furniture, your workplace also includes sensitive documents and technical arrangements. And for an individual, it's pretty impossible to handle every such thing solely. Hence you need an expert team to look after this concern.
We have a dedicated team for office relocation and employee shifting who are competent enough to deal with every critical belonging your business might include. Whether it's employee records, inventories, or client details, we take care of every document so that you don't face any inconvenience at the end. Our office shifting team includes technicians to deal with your technical arrangements and help you set up at the new working area.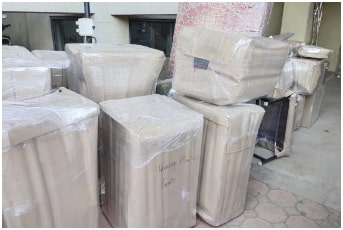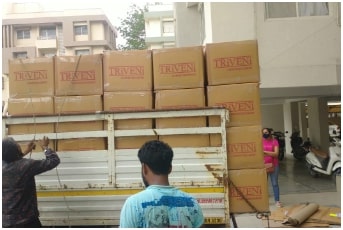 Ready To Get Moving?
Get Your Free Quote
A Successful Office Relocation Requires A Successful Planning
People are much worried about office relocation because they understand the hazard and obligations attached to the task. But with Om Transport Corporation, you can undergo successful office relocation. We plan our move and safely implement everything to make your office shifting go on a positive note.
Our office relocation service is done in a few steps:
Planning
We invest more time in planning the move during office shifting. Planning is an inevitable part of Om Transport Corporation to make the moving scenario less complicated. We have a dedicated team that plans and coordinates with our resources.
Communicating
Our clients are an essential part of every move that we make. After planning, we share the entire plan with you. We appreciate your ideas and suggestions to make our office relocation service more hassle-free and secure.
Assigning
We appoint a dedicated project manager to take care of your project. As office relocation is an important consideration, one of our project managers concentrates only on your project, and he takes care of the entire shifting and coordinates with other staff.
Informing
We inform you about the move well in advance to keep your employees updated about the movement. We make sure your team gets enough time to make necessary arrangements from their side, such as packing their personal belongings.
Ideating
Before packing and moving the entire office things to the new destination, we blueprint the whole arrangement. The blueprint includes how everything is going to be placed at the new destination. You can share the blueprint with your staff in advance for an easy settlement.
Implementing
And finally, our office shifting process starts. As professional office shifting packers and movers, we ensure to give you the best office shifting experience ever. With 100% verified staff and as an insured office shifting service provider, we make your office move a whole lot easier and hassle-free.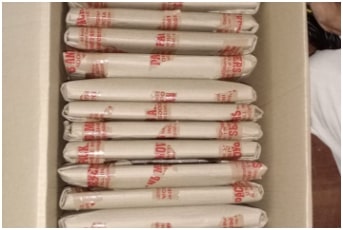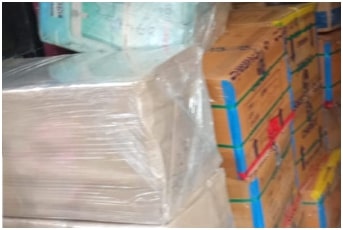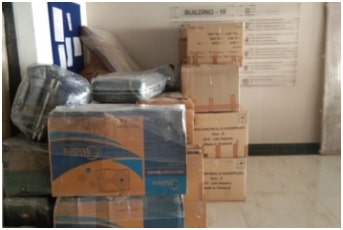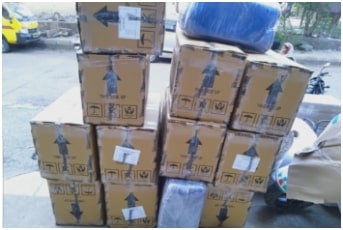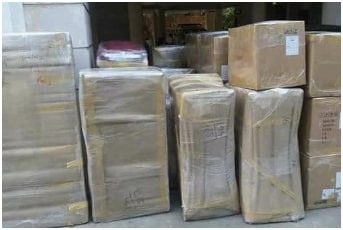 Office Shifting Frequently Asked Questions
Can Om Transport Corporation help us pack our offices?
Yes, we do take contracts to pack, move & shift corporate offices to any other city /State.
How much does it cost to relocate an office in India?
It totally depends on the volume of the office's goods and location where you want to move.